Welcome to the home of the
Radio Active Camping and Contesting Club - K5RAC
Actively associated with NORTEX QRP Club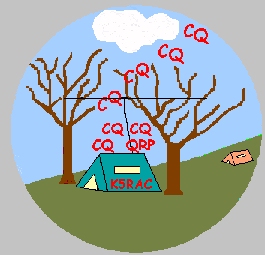 What we are all about

The Club was formed to share Amateur Radio with the public and interested amateur radio operators through camping and contesting (and to have fun!).
Thank you for stopping by. We appreciate your interest in the RACC club and wish you many great experiences in the world of amateur radio.

The Radio Active Camping and Contesting Club's members are available to demonstrate or help you demonstrate Amateur Radio to youth groups, scout groups, or any other interested group.

For more information on how you can take an active role in the RACC please contact us at email address:

KK5NA at kk5na.com

Searching for Radio Fun ?

Come join us! (Email me for info at KK5NA at kk5na.com )

We will set up and operate almost anywhere!
Check out these great organizations!!
Visit the FISTS webpage
"When You've Worked a FISTS, You've Worked a Friend"

RACC Information | Interesting Links | RACC Events | RACC Photos | Equipment ||

031219